Dental implants are artificial structures inserted into a patient's jawbone by a dental surgeon. Implants are required, if a patient has lost one or more teeth. A dental implant substitutes for a missing tooth. With screw-like devices, an implant is inserted into the jawbone, which then acts as an anchor for an artificial tooth called the 'crown'. A device called abutment is used to connect the artificial tooth to the dental implant. A custom-made crown, matching the person's tooth is fitted to the patient's mouth. Crowns are supposed to look, feel and function as natural teeth.
Dental implants have considerable advantages over dentures, which are removable artificial teeth.
The advantages are as follows:
More natural and comfortable.
Improvement in speech
Improvement in appearance
Improved self esteem
Improved oral health
Higher success rate
Improvement in chewing function
Have a lower risk of cavities
Better maintenance of bone at the site of the lost tooth
Decreased tooth sensitivity
They need not be taken out and cleaned every night
Durable
Convenient
However, there is one disadvantage- dental implants are not suitable for everyone. The implanting devices and the jawbone must bond perfectly, hence, a person's bone must be healthy before they can undergo surgery.
TYPES OF DENTAL IMPLANTS
There are two types of dental implants:
Endosteal implants- These are the most common types of implants. They are embedded in the jawbone and each one can hold at least one or more artificial teeth.
Subperiosteal implant- These are affixed to the top of the jawbone. This is an option chosen by surgeons for patients who do not have much height to their jawbone.
STEPS INVOLVED
The first step is an individualized treatment plan which addresses a patient's specific needs and is prepared by professionals specially trained in oral surgery and restorative dentistry.
Root Implant is the next step. It is a small post made of titanium which is placed into the bone socket of the missing tooth. When the jawbone heals, it slowly grows around the implanted metal post, securing it in the jaw. The healing process takes around from six to twelve weeks.
Once the implant has bonded securely to the jawbone, an abutment (a small connector post) is attached to the post to secure the new tooth tightly in place.
The new tooth, or teeth, is made with the help of the impressions of your teeth, which then the dentist uses to create a model of your bite. The new tooth is based on this mode. The dentist then attaches the replacement tooth, or crown, to the abutment.
The implant is created in such a way that it matches the color of your natural teeth. As the implant is tightly secured within your jawbone, it looks, feels and functions just like regular teeth.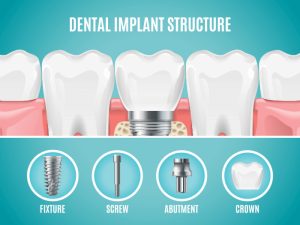 EXCEPTIONS
Not all people are eligible for dental implants. It is not safe for surgeons to operate on patients with:
Acute illness
Uncontrollable metabolic disease
Bone or soft tissue disease or infection
These people can undergo surgery only if these issues are resolved.
There are some cases in which the surgeons refrain from operating on the patients with-
Heavy smoking habits
Parafunctional habits (tooth clenching or grinding)
Psychiatric or behavioral disorders
HIV
Diabetes
Osteoporosis
AIDS
These patients have a higher risk of facing dental implant failure.
In some situations, like the following, the surgeons may choose not to operate on the patients due to an increased risk of complications.
Bisphosphonate drug treatment (for bone loss diseases)
Chemotherapy
Radiation therapy for head and neck
FACTORS INFLUENCING DENTAL IMPLANTS
The experience undergone by each patient is different. The factors that may influence dental implants are as follows:
The number of teeth that require replacement
The location of the implants within the jaw
The quality and quantity of bone at the implant site
The patient's oral and systemic health
Depending on these procedures, additional procedures such as sinus augmentation or ridge modification may be necessary.
MAINTENANCE
A person that has underwent dental implant surgery must brush and floss their teeth regularly. Artificial teeth must be maintained and cared for in the same way as natural teeth. Follow-up visits to monitor the health of your teeth and gums would be scheduled by your dental surgeons.
It is important to visit your dentist every six months for professional clean-ups.
COST
The cost of dental implants can be influenced by the following factors:
Number and types of implants required.
Location of the implants within the jaw.
The need for additional procedures to prepare the mouth before surgery.
A close estimate for the cost of dental implant surgery can be determined by your dentist in the initial examination. Other tooth implants, like bridges, may be less expensive, but they are harder to clean and often require replacement and repair, thereby increasing overall cost. Dental implants, though expensive are much preferred as they offer long-term benefits if taken care of properly.
In conclusion, dental implants are bone fixtures used to replace missing teeth. They have a higher success rate and long-term benefits as long as they are maintained with utmost care and perfection. A person who has undergone dental implant surgery has to visit the dentist regularly in order monitor the health of your teeth and gums.
Dental implants are known to increase a sense of self esteem and confidence. They also are more durable, convenient, natural and comfortable. In some cases, additional procedures are involved before the patient undergoes dental implant surgery. The number and the types of implants required decide the cost of the surgery.
It is important to ask the surgeon if undergoing an implant surgery is suitable for you or not.
If anyone is interested to build a career as a Dental Lab Technician, Please Visit our Website here : Cochin Dental Institute .
As one of the Top dental Institute in Ernakulam , We provides the best Dental Technician Course in Kerala.